WALLEYEDAN'S 4 TIPS FOR AUGUST WALLEYE FISHING
Summer weather might be in session, but not for long. Now is prime-time Walleye fishing.
As late summer months arrive, be sure to put Walleye at the top of your menu for this month's special. You won't want to miss out this Walleye season.

When brainstorming of Walleye experts to interview, we believed there wasn't a better person suited for the job than our friend and professional fisherman, Dan.

Dan Eigen is about as outdoorsy as it gets. He's a lifelong hunter, fisher, outdoorsman and enjoys just about everything under the sun. If you haven't heard of Dan Eigen, you might know him by his fish name, Walleyedan.

Growing up in an adventurous family, fishing is practically instilled in his DNA. "My parents were people of the outdoors and taught my brother John and me how to enjoy the outdoor life (hunting, fishing, trapping, etc.)," says Walleyedan. "Every summer our family would stay at a resort in northern Minnesota, and this is where my love for Walleye began." It was a trip to Gull Lake near Brainerd, Minnesota when he got hooked on Walleye fishing. He said he was intrigued by these age-old species and that they happened to be great to eat!

Nowadays you can find Walleyedan in central Minnesota maintaining and operating his business, Walleydan's Guide Service. Since doing his first guided trip at Gull Lake, he's been sharing is love for Walleye with others for the past 30 years. He caters and encourages these trips in hopes it will get folks out the door and off their phones. He's passionate about teaching others how to hunt, fish and enjoy the outdoors just like him. What he loves most about guiding is watching people learn to catch their first fish or shoot their first turkey.

We reached out to Walleyedan wanting to get his thoughts on his go-to tricks for freshwater fishing. After chatting with him, here's what he has up his sleeve...
BEST TIPS FOR WALLEYE FISHING:
1. No Wait with This Bait
Q: What is the best bait/lure setup for Walleye fishing in August?
As Walleye begin moving out from the weeds Walleyedan says, "A Redtail chub on a live-bait rig is hard to beat." For artificial lures, he put a loaded up #9 Rapala Jigging Rap on the top of his list.
Walleye is a freshwater fish native to Canada and northern United States. Walleye have razor-sharp teeth and a spiny-edged dorsal fin. Because they can grow to more than 30 inches and over 12 pounds, these predatory fish prey on smaller fish such as the Redtail chub. The Redtail chub is one of the most valuable baitfish species for Minnesota and other northern states and Walleye go crazy for them. Walleye are also believed to only see colors red and green making the Rapala Jigging Rap an easy siting for Walleye.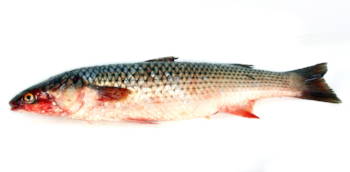 2. Early Birds and Night Owls
Q: Is there a specific time of day that is more successful for catching Walleye?
Walleyedan says, "Morning and evenings to be best for Walleye fishing, but if the wind blows the Walleye fishing can be decent all day."
Walleye got its name based upon the anatomy of its eyes. Its eyes point outward, as if looking at a wall. Walleye also have a reflective film of pigment that cover its eyes. This reflective layer helps them to see in dark and murky water. The Walleye's low-light vision and sensitivity to light play a huge role in its behavior patterns and in the ideal time for catching them. Walleye are more active in the dark suggesting early mornings and late evenings as prime time. When it's dark outside Walleye will swim in shallow waters and as it gets brighter during the daytime they tend to lurk ins deeper water hiding away from the bright light.
If you do find yourself with an afternoon break and decide you want to fish for Walleye don't be discouraged. Walleye can be found in the middle of the afternoon just remember you'll want to aim for deeper waters.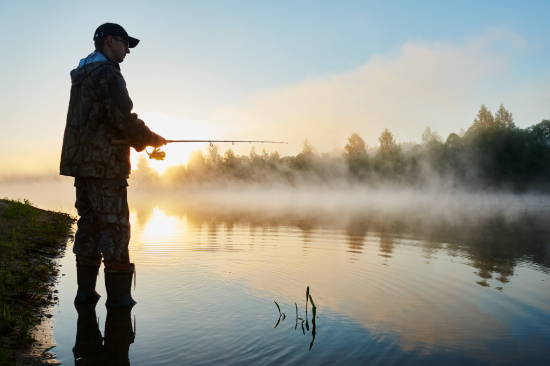 3. Water Temperature (Hot vs Cold)
Q: What is the idea water temperature for Walleye?
Unlike the hot and muggy August days, Walleye prefer cool waters and clear lakes and rivers near the upper Midwest and northern states. These fish are the go-to fish for northern anglers because of the high population of Walleye .
In terms of water temperature, Walleyedan charted 60 degrees as the magic number. Even though they are definitely active during the cooler months like August and September he says, "Walleye, depending upon how readily available forage is, can be active the whole calendar year."
Some say only a few months out of the year is best for Walleye fishing. While there are more successful months for Walleye fishing due to the weather, Walleyedan believes there isn't a set time and date because activity among Walleye is reliant on the availability of food for them.
4. Where to fish for Walleye
Q: Where is the best location to find Walleye?
We might not find Waldo, but we for sure can spot where the Walleye are.
According to Walleyedan, "Walleye will relate to many different areas, and the bottom line is to try and find them and figure out what is going to trigger them to bite. If you are fishing in clear waters you may want to cast at them so you don't spook them. Long line trolling is another option. Trolling in shallow water while running crankbait can be super effective at night up on the shallow flats!"
If you're not familiar with long line trolling, it's when you secure your rod and reels to a stationary rod rack and let the line out behind the boat, pulling crankbait or jigs at various depths and speeds. It's called trolling because of the trolling motor attached to your boat that is used to move through the waters. Long line trolling is not only effective for fishing for Walleye but also great for catching Crappie too.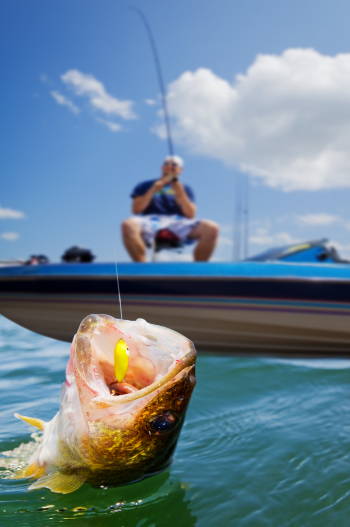 Walleyedan is the Man
You can't go wrong with fishing for Walleye in August, and you sure can't beat Walleyedan's fishing tips.
If you're looking to stretch out your summer days, head out and fish for some Walleye. Whether you favor live bait or artificial bait, Walleye can easily be caught by either.
Since Walleye have sensitive eyes, Nitty Gritty Dirt Band got it right when they suggested fishing in the dark. Early in the morning or nightfall is the best time for finding your pride and joy.
When picking out a location, consider water temperature and water clarity. Walleye like cooler water temperatures (we're talking 60 degrees!) and clear waters.
We hope Walleyedan's pro tips are of help to you this season. Let's all take Walleyedan's advice and get out the door, off our phones and set sail. Ready, set, fish!
Thank you for reading,
The Bubba Crew