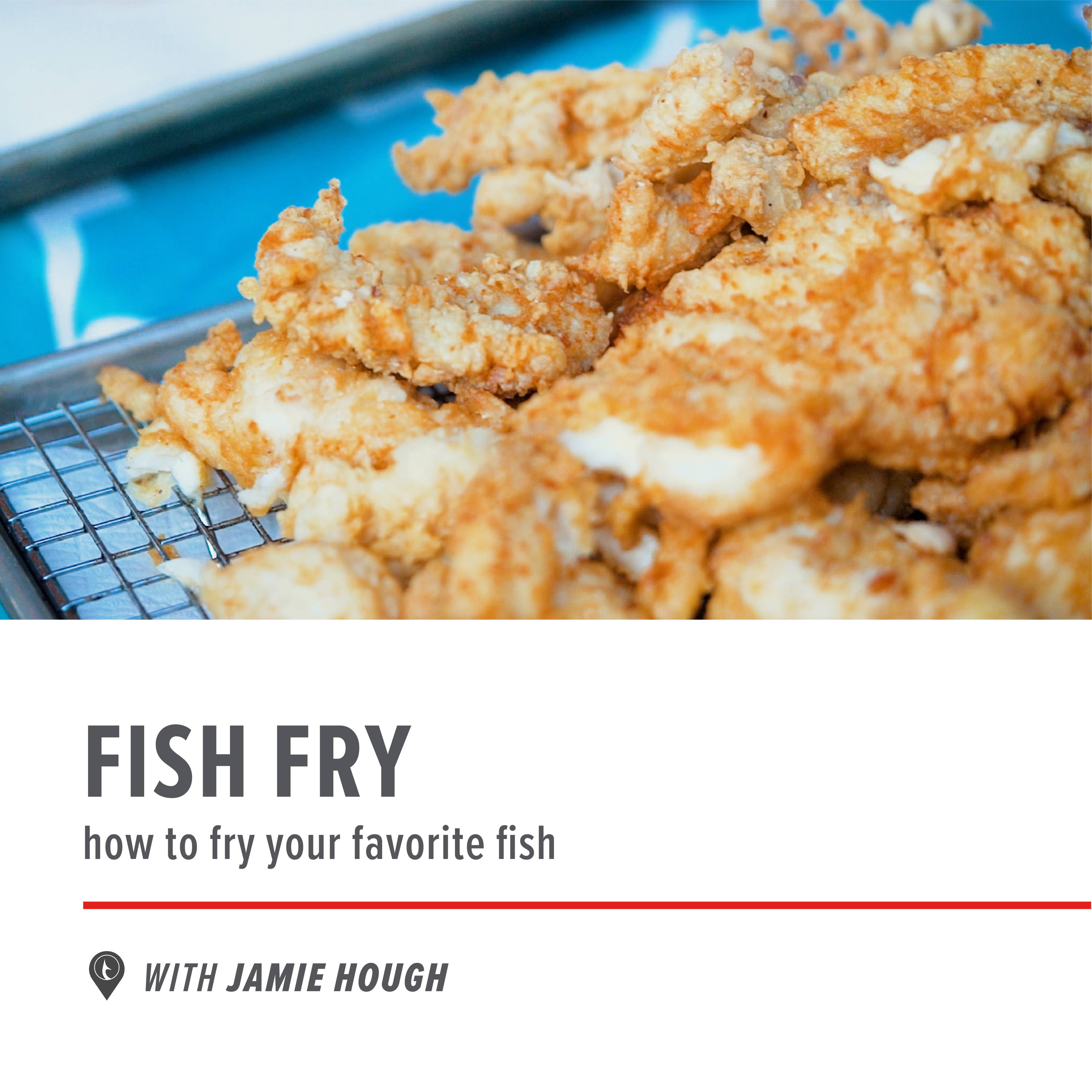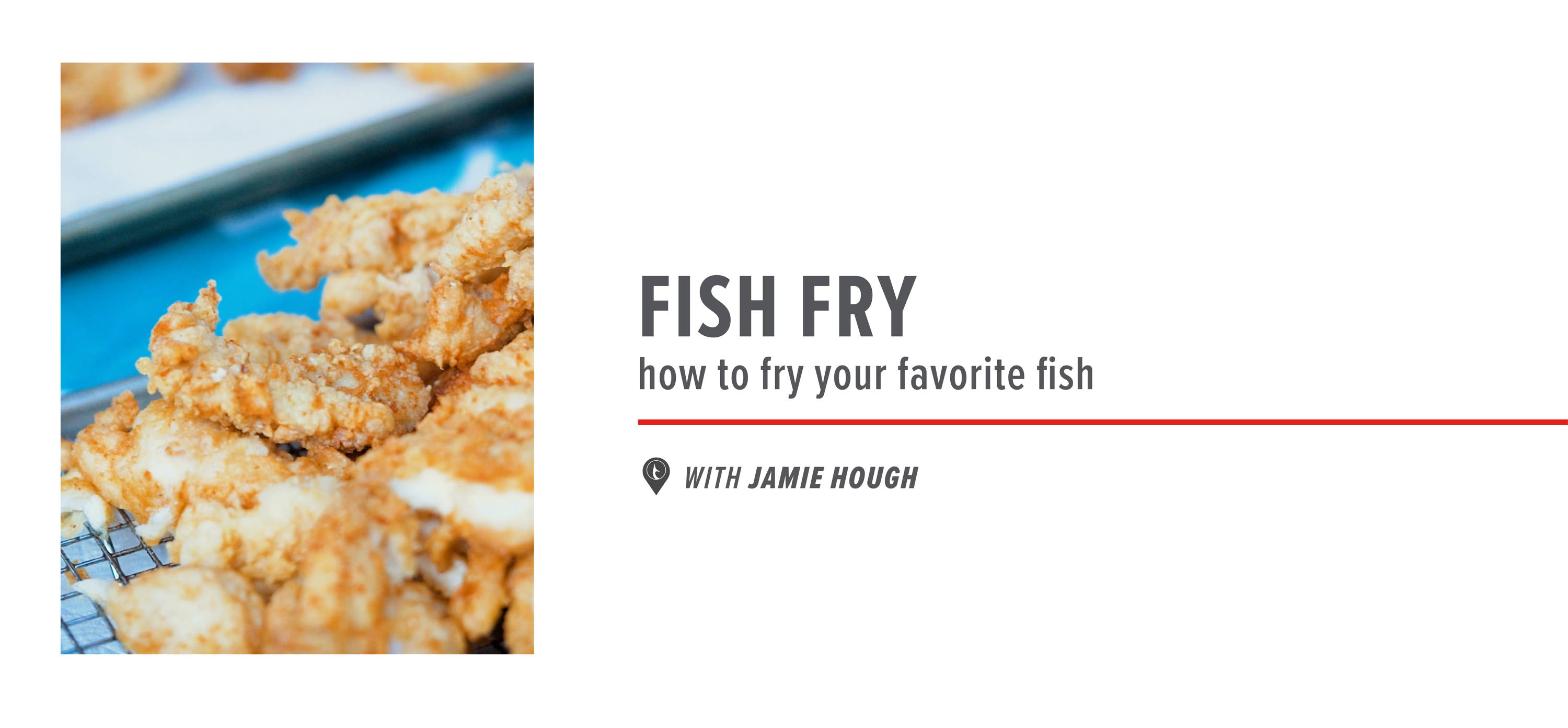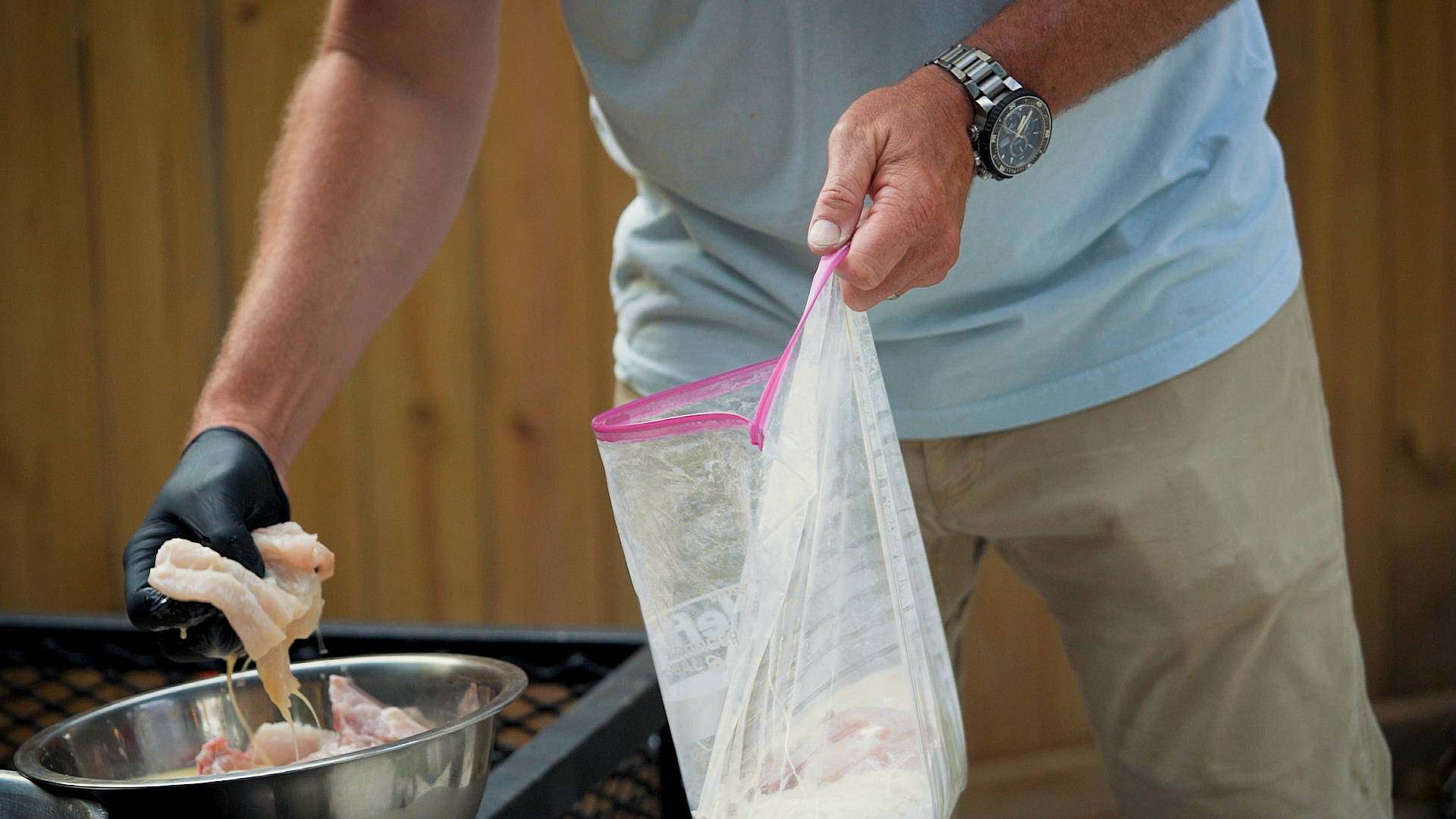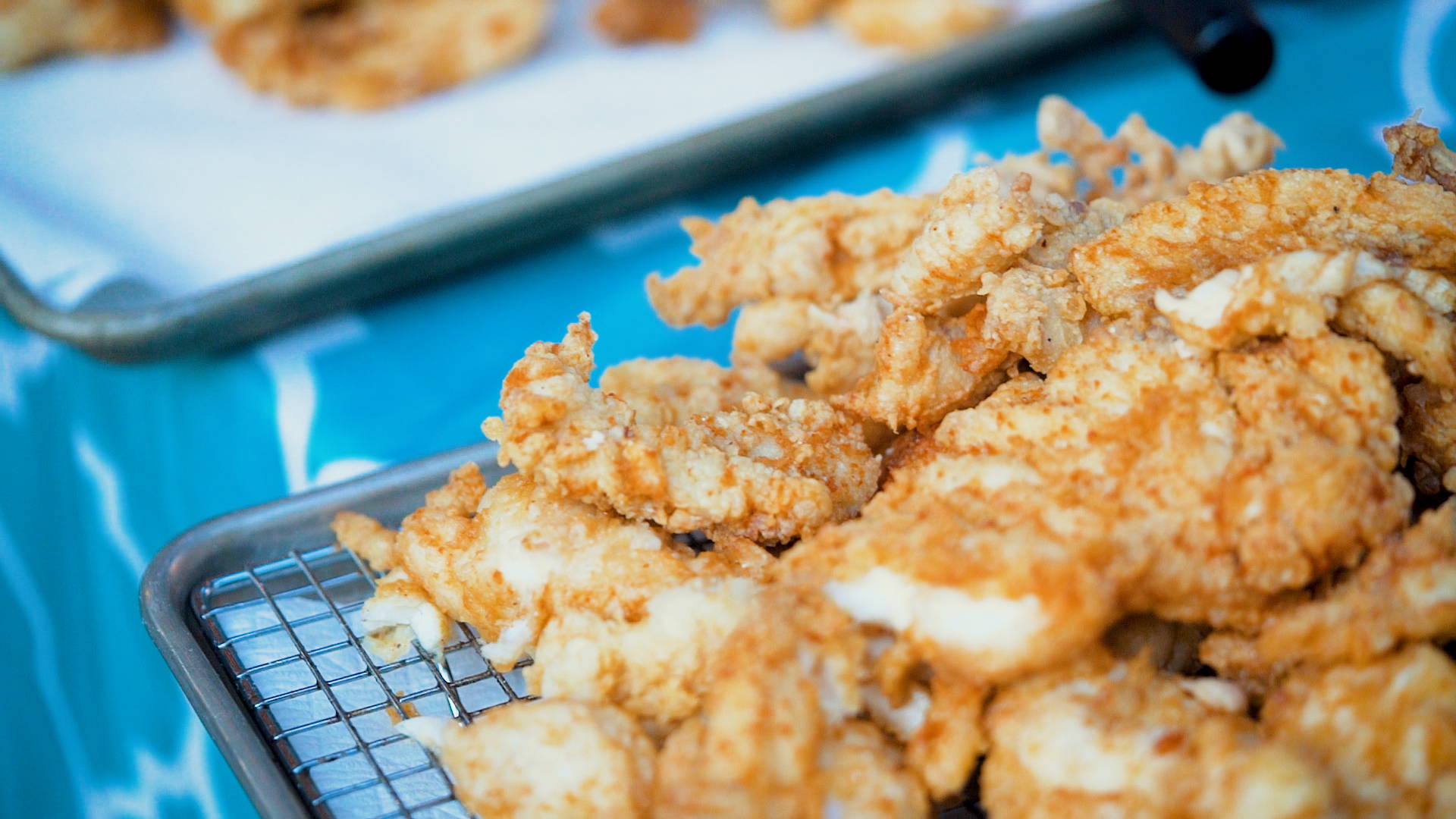 ---
Grouper
Snapper
Speckled Sea Trout
3 Cups cornmeal
3 Cups flour
3 Eggs
1 Cup heavy cream
Frying Oil
---
1. Remove bones, skin and sinew from all cuts of fish, along with any other desired trimming.
2. To make the breading, combine a 1:1 ratio of cornmeal and flour in a large zip-top bag. Add any other desired spices, close the bag and shake to mix.
3. In a large bowl, add cracked eggs and heavy cream. Whip mixture thoroughly with a whisk. Add cuts of fish to the egg wash.
4. Heat frying oil to 350°
5. Move handfuls fish from the egg wash to the breading, allow some of the egg wash to drip off before placing in the bag. Close the bag and shake until fish is fully coated in breading.
6. Carefully drop the breaded fish into the heated oil.
7. When white fat starts to appear outside of the breading, remove the fish from the oil with a fryer skimmer. Place on a cooling rack or paper towels to drain excess oil. Serve with cocktail sauce or tartar sauce. Enjoy!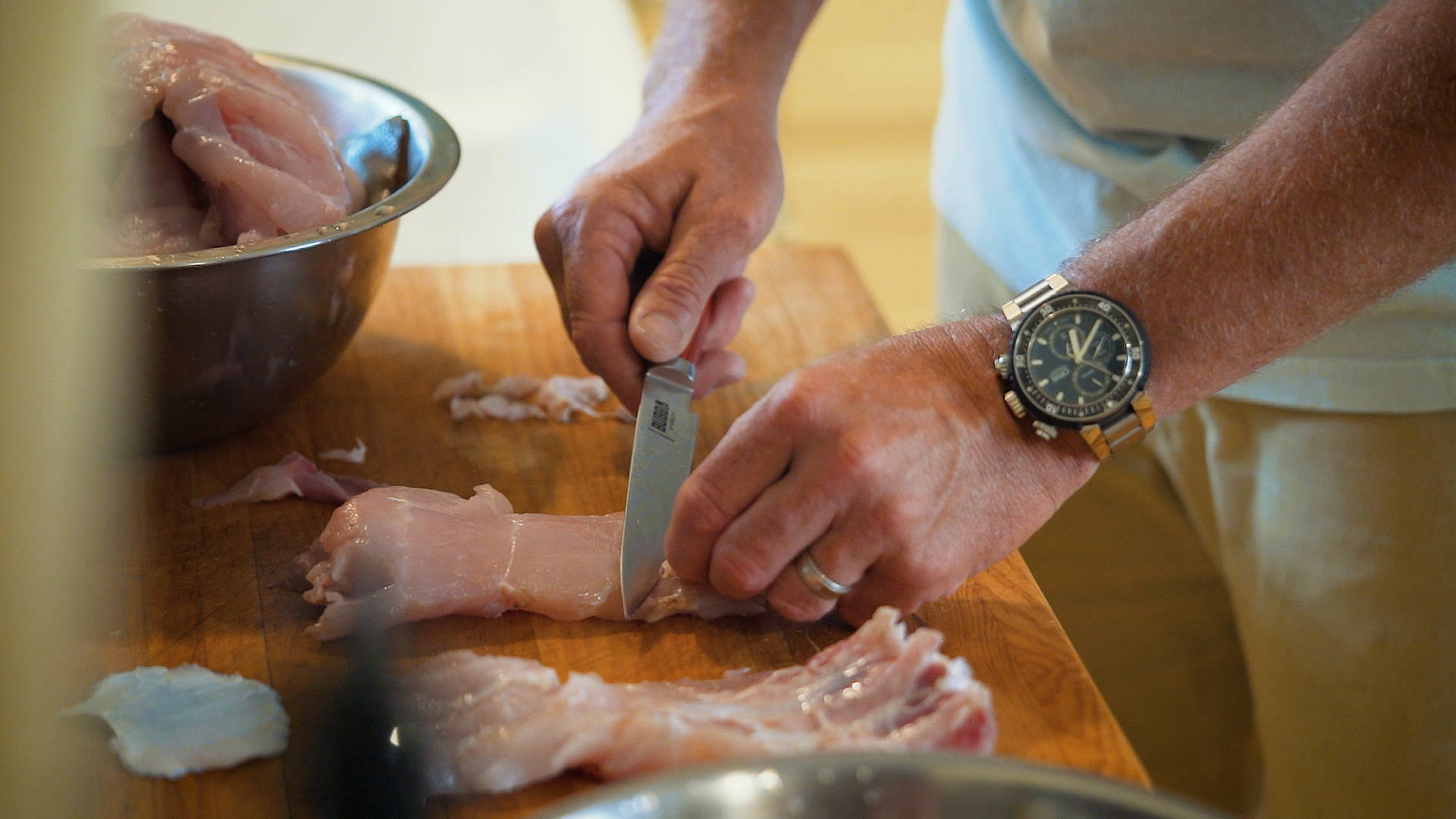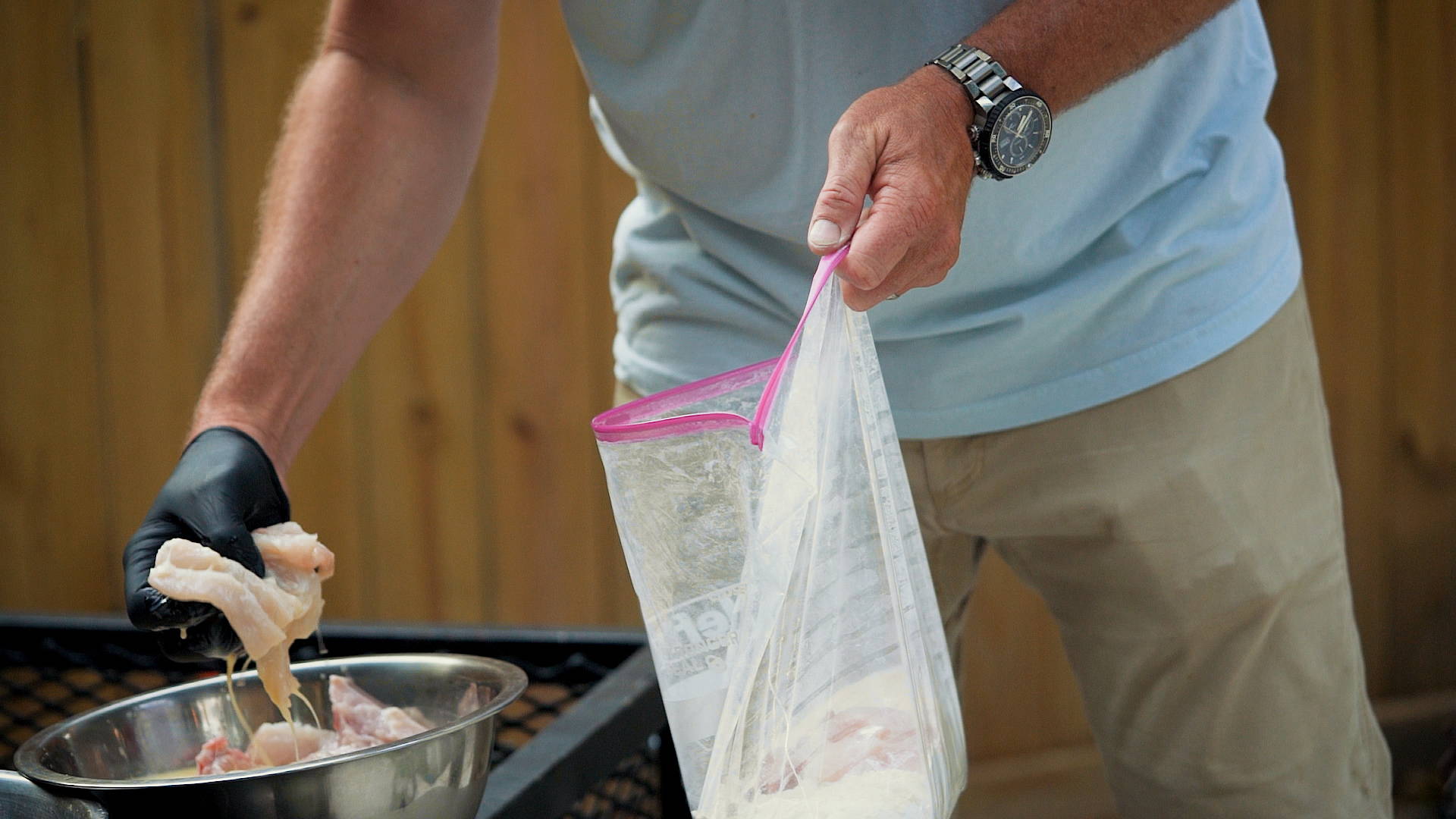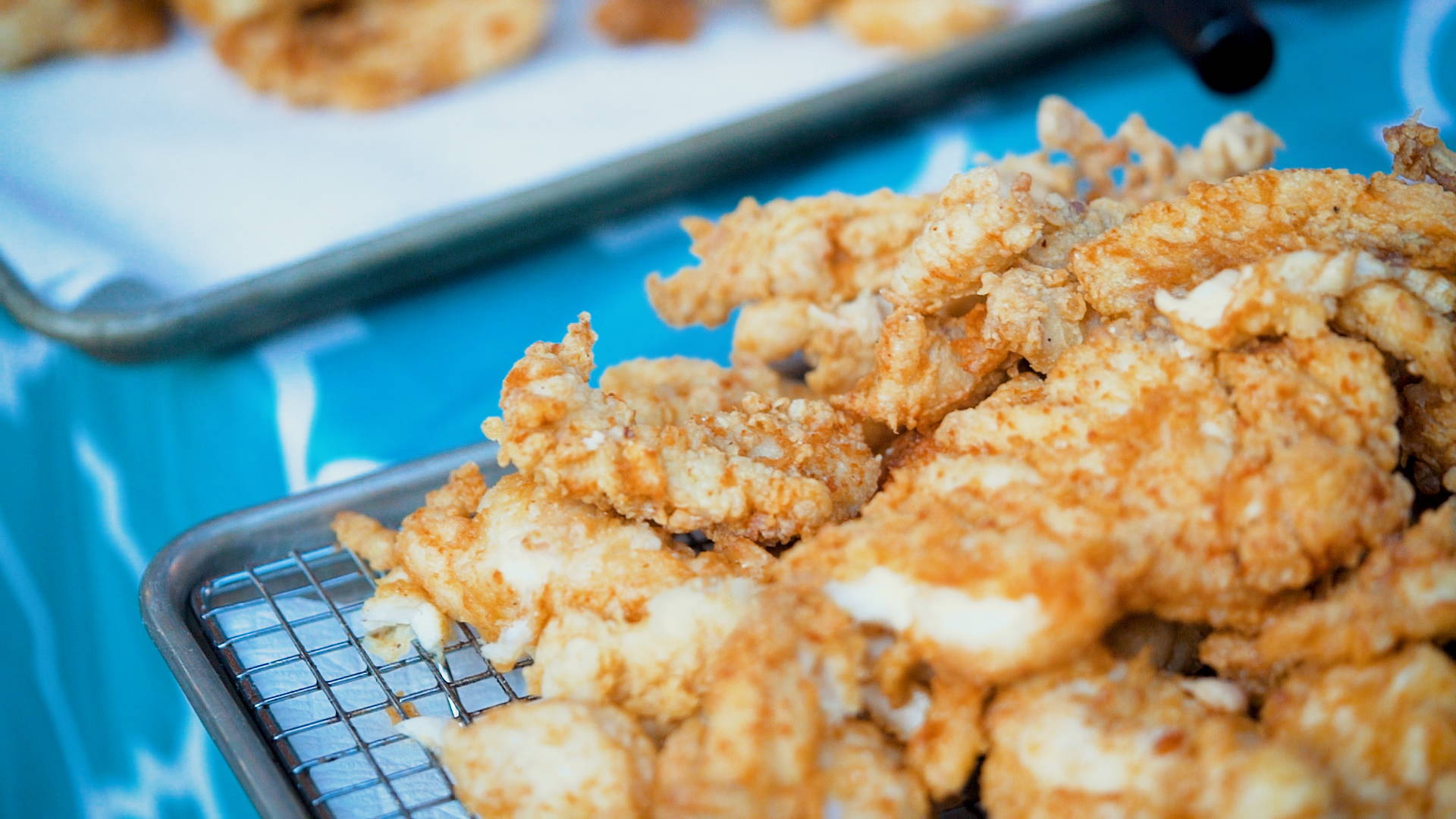 ---
Thai Slaw
1/2 Napa Cabbage, sliced thin
3 green onions, chopped
1 tablespoon minced ginger
1 teaspoon minced garlic
1 jalapeno sliced thin
1/2 mango, julienned
2 tablespoons fish sauce
1 teaspoon soy sauce
1/2 bunch fresh cilantro, rough chopped
1 TPS black sesame seeds
Mahi Mahi
4 small mahi fillets
1 large egg, beaten
1 cup panko bread crumbs
Slider buns
Salt and Pepper to taste
Butter/Olive Oil (to fry mahi mahi)
Sriracha Lime Mayo
1/2 Cup Mayo
Zest of one Lime
1 tablespoon lime juice
---
To make the slaw, combine all the ingredients in a large mixing bowl. Toss everything together to mix well. Set aside.

Pat the mahi fillets dry with a clean paper towel. Place the beaten egg in a bowl and place the panko bread crumbs in another bowl. Dip the mahi fillets into the egg wash to full coat the fillets. Then place the fillets one and a time in the panko bread crumbs and turn the fillets over to fully coat in the crumbs. Repeat with the remaining fillets.

Set a large pan over medium-high heat, add vegetable oil to the pan until it reaches just about 1/8 of an inch up the pan. Once the oil is hot add the fillets and cook on each side for about 3-4 minutes. Once the fillets are cooked through place on a wire rack and immediately sprinkle with salt.

To make the sriracha lime mayo, in a small bowl combine the mayo, lime zest and lime juice, mix well to combine.

To assemble the sliders, take a slider bun and add some one the mayo to the top and bottom pieces inside the buns. Then place a swordfish fillets on top of the bottom piece. Top the fillet with some of the slaw and top with the top portion of the bun. Then eat!